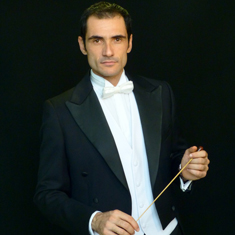 Music Director and Coordinator Junior Masterclass
Conductor, Composer, Pianist, Music Director Narnia Festival
Direttore stabile Orchestra Filarmonica Città di Roma

Italy
At the age of seven he began studying the piano and at eleven he began studying the organ under the organist and composer Lorenzo Ronci. He concluded his studies at Santa Cecilia with Maestro Federico del Sorto. Since 1996 he has been the principal organist at the Basilica del Sacro Cuore Immacolato di Maria ai Parioli (Rome).
From 1997 – 2011 he continued to perfect his piano studies under Biagio Andriulli, Andrea Sammartino, Giovanni Scaramuzza and Gino Nappo at the Santa Cecilia Conservatory in Rome. He has performed as soloist and has accompanied polyphonic choirs in some of the most prestigious cathedrals and venues in Italy. He has worked with many important singers from the Santa Cecilia Academy and Teatro dell'Opera, the Coro Accademico Romano and the Coro Polifonico S. Martino, among others. In 2003 he held concerts in the Vatican (Sala Raffaello), in the Chiesa del Governatorato and in the Vatican Gardens for the re-opening of the Casina di Pio IV.
He studied composition with Marco Persichetti, graduating with the highest grades from the Conservatorio di Santa Cecilia in Rome under Francesco Telli.
He began his career as Orchestra Conductor studying with Francesco Carotenuto and Marco Boemi, and participating in Piero Bellugi's Masterclasses. Since 2004 he has written and performed music on the piano and organ for shows, documentaries and short TV movies on RAI 1, RAI 3, RAI International, Sky Sport, Roma Uno, and others. In November 2005, Radio Uno Rai broadcasted his "Rapsodia Orientale (Pensando a Pechino)" composed and played by him. In May 2006 he debuted as composer at the Auditorium Parco della Musica in Rome (Sala Petrassi) during an event hosted by Pippo Baudo "Com'è Straordinaria la Vita", and held a chamber music concert in the Basilica di San Giovanni in Laterano for the 400th anniversary of the opening of the Vatican Museums. During the Christmas festivities in 2006, he played the organ during the Mass in St. Peter's Cathedral. In September 2009 and in December 2011, he was again organist at St. Peter's for the celebration of Masses by Cardinal Comastri.
From 2009 to 2010 he was First Assistant Conductor of the elite orchestra of the Conservatorio di Santa Cecilia in Rome. In 2010 he debuted as Conductor of the Orchestra Tiberina, conducting the orchestra again in 2011 for a concert at the Cathedral of the Santissimi Apostoli (Rome). Since 2010 he has been collaborating with the Accademia Santa Cecilia as pianist and conductor. Since 2011 he has been Principal Conductor of the Philharmonic Orchestra "L'Armonica Temperanza", with which he tours on a regular basis. With "L'Armonica Temperanza" he was invited to perform in the most prestigious halls and churches of Rome (Sala della Protomoteca del Campidoglio, Sala del Coro della Cappella Sistina, Biblioteca del Senato, Biblioteca Nazionale, Basilica di Santa Francesca Romana, San Quirico e Giulitta ai Fori Imperiali, San Bartolomeo all'Isola Tiberina, S.Lucia al Gonfalone, Chiesa degli Spagnoli ai Banchi Vecchi, San Clemente, Sant'Eugenio alle Belle Arti, San Paolo entro le mura). In 2012 he founded the Orchestra and Choir of Convitto Nazionale Vittorio Emanuele II in Rome.
In 2013, within the Narnia Festival, he conducts at the prestigious Orvieto Cathedral and San Domenico Auditorium in Narni, Italy. Both concerts were recorded by RAI 1 and presented by famous actress Barbara De Rossi.
In January 2014 he debuts with Orchestra Filarmonica di Roma at the Auditorium Seraphicum in Rome and Teatro Magnani in Fidenza (Parma) with two sold out concerts.
On the basis of his merits, the President of the Republic of Italy, C.A.Ciampi, awarded him the title of "Cavaliere della Repubblica".
More information on lorenzoporzio.it