Acting Workshop
Dal 21 al 23 Luglio 2021
Il programma 2021 verrà reso noto il 15 Maggio. STAY TUNED!
Edizione passata
Workshop gratuito di Recitazione (23 – 24 – 25 Luglio 2020)
con la compagnia di IMPRENDITORI DI SOGNI

"LA POESIA DEL CORPO"
con due esibizioni sul palco (in cartellone al Narnia Festival)
24 Luglio "Shakespeare in Love"
25 Luglio "Una corsa nel Vento"
Ospite Speciale: Margherita Buy (23 Luglio ore 18:00)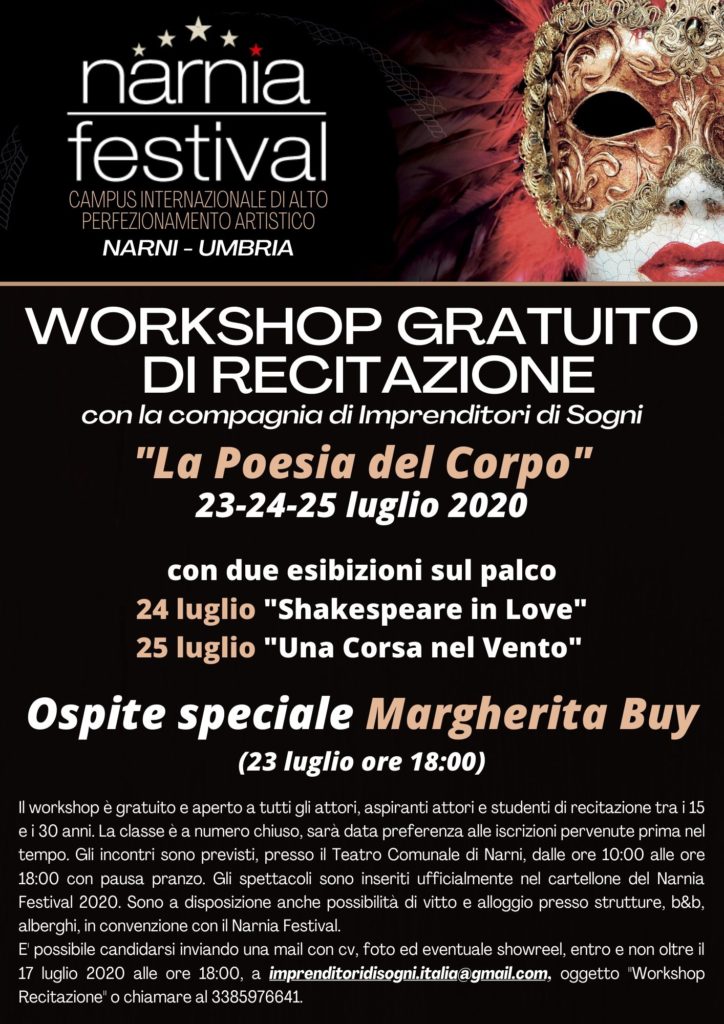 Il Narnia Festival (www.narniafestival.com) nasce dall'idea della pianista e compositrice Cristiana Pegoraro di unire musica, arte, opera, teatro, danza, studio e turismo. La IX edizione del festival, sotto la direzione artistica di Cristiana Pegoraro e musicale di Lorenzo Porzio, si svolgerà a Narni dal 21 Luglio al 2 Agosto. Il programma è ricco di eventi, concerti, spettacoli, conferenze, lezioni, masterclass, workshop, programmi per i giovani, mostre, itinerari culturali e visite guidate.
Per il primo anno, all'interno della manifestazione, si terrà il Workshop gratuito di Recitazione con la Compagnia di Imprenditori di Sogni. Nella stupenda cornice di Narni, caratteristica città medievale umbra, i partecipanti avranno una grande opportunità per perfezionare le competenze artistiche e per sperimentare le potenzialità creative dell'arte della recitazione.
A tutti gli iscritti verrà rilasciato un attestato di partecipazione.
Clicca qui per informazioni su Imprennditori di Sogni
AGGIORNAMENTO CORONAVIRUS:
Si attesta che il Workshop di Recitazione 2020 si svolgerà nel rispetto delle norme sul distanziamento sociale dettate dal Covid-19.
Se per causa di forza maggiore il Workshop dovesse essere cancellato, la quota di iscrizione all'associazione verrà rimborsata.
I maestri
Yuri Napoli

Yuri Napoli Italy
Assistant Director International Vocal Arts Program
Imprenditori di Sogni
×
Yuri Napoli
A winner of the 2016 "Bewons Best Talent" as Best Actor, Yuri Napoli is an actor, writer and director.
Born in Naples, he started his training in Italy and continued it in London and New York.
In 2009 he funded "Imprenditori di Sogni", a company with the goal of promoting culture and the arts.
He worked for directors such as Silvio Muccino, Giuseppe Nuzzo, Sergio Basile and with actors like Francesco Montanari, Nicoletta Romanoff, Carla Signoris. He wrote and directed plays about Classic Music, Science and History.
He directs two acting schools in Rome and many high school acting projects.
He's the artistic director of Gruppo Storico Romano.
His activities continue in the fields of Cinema and Live Theatre.
More information on https://www.imprenditoridisogni.com
Claudia Natale
×
Claudia Natale
Claudia Natale was born in Naples in 1987, she graduated and specialized with honors first in "Scenography" at the Academy of Fine Arts in Naples and then in "Entrepreneurship and Creativity for Cinema, Theatre, and Television" at the University of Naples "Suor Orsola Benincasa" with a thesis on "The Future of Live Entertainment between Entrepreneurship and Creativity".
She began studying acting at the age of fifteen, then moved to Rome and studied Dramatic Art with actors, directors, and coaches including Rosa Maria Tavolucci, Michele Monetta, Francesca Viscardi Leonetti, Ivana Chubbuck. In New York, she met Susan Batson at the prestigious Black Nexxus.
As an actress, she usually works in productions written by Sergio Basile, an actor who collaborated in the past with Vittorio Gassman and Giorgio Albertazzi. In March 2019 she made her debut in Moscow at the Italian Cultural Institute with the show "Cechov fa male!" by and with Sergio Basile, after several dates around Italy.
Some of the last performances written, directed and performed by her were "Evita – Omaggio ad Eva Peron" in 2019, with pianist Gaia Vazzoler, under the patronage of the Argentinian Embassy, and in 2018 "Canto di Maria" with Maestro Lorenzo Porzio and soprano Ivana Canovic, presented at the Camera dei Deputati in Montecitorio.
In 2019 she won the National Literary Prize "Women between Memories and Future" in the "Poetry" section.
Since 2009 she has been the founder, president, and C.O.O. (director of operations) of "Imprenditori di Sogni", a cultural production company with over 100 national and international projects including theatre performances, concerts, fashion shows, book presentations, painting, photography, sculpture, and dance events.
Since 2018, with the actor Yuri Napoli, she has directed the School of Acting and Production of "Imprenditori di Sogni" (Dream Entrepreneurs), which features in its teaching staff: Rosa Maria Tavolucci, a former acting teacher at the Accademia Nazionale d'ArteDrammatica "Silvio D'Amico", Miriam Bellucci Tassi, a former organizer at the "Teatro Argentina" in Rome and the voice actor and dubbing director Stefano Mondini
She regularly teaches Theatre and Communication in state schools of all levels. In 2016 she held a conference at the Department of Architecture and Industrial Design at the University of Campania "Luigi Vanvitelli".
​Since 2016 she has been the organizational director of the Enrico Toti Association and the "Musicasu Roma" Festival, under the artistic direction of Claudia TotiLombardozzi and the musical direction of Maestro Lorenzo Porzio, sponsored by the Istituto Treccani.
Since 2016 she has been the artistic director of the Historical Roman Group, awarded with 7 Medals of the President of the Republic for High Artistic and Cultural Value and the events "Idi di Marzo" and "Natale di Roma", which was awarded the High Cultural Patronage of the European Parliament.
She presented the 2016 and 2017 editions of the film festival "Social World Film Festival", in which she held an acting workshop which featured actor Francesco Montanari as a guest.
She was part of the organizational team of the international project between Italy and Germany "Sogno Italiano", which involved over 120 participants from all over the world.
More information on https://www.imprenditoridisogni.com
Marzia Meddi
×
Marzia Meddi
Marzia Meddi was born in 1989. After training as a dancer she graduated from the Foundry Academy of Arts in 2013. Work as an actress and performer includes: Legami by Monica Donati and My Love and Corso involontario per l'uso di evidenti debolezze, written by Lorenzo Gioielli. As a director: L'altra|Lui|Lei by Alessandra Berton and Non ti dimentiar di me by Chiara Bonome. Her practice as a Movement Director began with Corso involontario per l'uso di evidenti debolezze and Le scoperte geografiche by Marco Morana. In 2017 her work-in-progress piece, Quid was selected for the CosiDanzi residence for the young dancers, as well as for the choreography initiative Corpo Mobile. She has made several short dance films, including Talking About and Stockholm.
QUOTA DI ISCRIZIONE all'Associazione Narnia Arts Academy: €30
La quota non comprende
L'Associazione NARNIA ARTS ACADEMY ha stipulato vantaggiosissime convenzioni con le principali strutture alberghiere e ristoranti del centro storico di Narni (dove si svolgerà il campus) per tutti i partecipanti al Workshop di Recitazione e i loro accompagnatori (vedi sotto).
Iscrizione e bonifico
Data limite: 17 Luglio 2020
Al raggiungimento del numero massimo di partecipanti verranno chiuse le iscrizioni anche prima della data limite.
Nel bonifico si prega di specificare QUOTA ASSOCIATIVA – WORKSHOP DI RECITAZIONE.
La copia della ricevuta del bonifico bancario di €30 deve essere inviata, entro il 17 Luglio, al Direttore Artistico Cristiana Pegoraro via email (narniaartsacademy@gmail.com) o per posta al seguente indirizzo: Via Cavour 3, 05100 Terni.
Metodo di pagamento
Beneficiary: NARNIA ARTS ACADEMY
Account Number: 2000 405
Iban: IT32 B062 2014 4060 0000 2000 405
Swift (BIC): BPBAITR1
Bank: CASSA DI RISPARMIO DI ORVIETO
Branch Address: Via Turati 25, 05100 Terni, Italy
Bank Head Office: Piazza della Repubblica 21, 05018 Orvieto, Italy
Applicants are responsible for all bank transfer fees.
Convenzioni alloggio
NARNIA ARTS ACADEMY ha stipulato delle convenzioni in esclusiva per i partecipanti al Workshhop di Recitazione e i loro accompagnatori con le seguenti strutture alberghiere:
Le Stanze del Giglio – Appartamenti
Hotel La Loggia dei Priori
Ostello Sant'Anna
Residence Palazzo Barilatti
Hotel Terra Umbra
Fattoria La Collina Incantata
Gli appartamenti Le Stanze del Giglio, Hotel La Loggia dei Priori, il Residence Palazzo Barilatti e l'Ostello Sant'Anna sono vicinissimi alle aule dei corsi e a tutte le sale da concerto. L'Hotel Terra Umbra e la Fattoria La Collina Incantata si trovano a 9 Km dalla piazza principale di Narni.
Su richiesta, potranno essere organizzati alloggi in convenzione presso appartamenti in affitto o B&B nel centro storico. Gli alloggi potranno anche essere organizzati presso appartamenti o B&B situati al di fuori del centro storico, alcuni con piscina, ideali per famiglie con mezzi di trasporto indipendenti. Si prega di specificare questa richiesta nel modulo di iscrizione.
Chi non volesse usufruire delle convenzioni alberghiere potrà gestire l'alloggio in maniera autonoma.
Per prenotare è necessario fare richiesta via mail a narniaartsacademy@gmail.com – 366 7228822
NARNIA ARTS ACADEMY GESTIRÀ LE PRENOTAZIONI PRESSO TUTTE LE STRUTTURE ALBERGHIERE.
Le strutture alberghiere convenzionate con Narnia Arts Academy non accettano prenotazioni indipendenti.
Si suggerisce agli studenti di prenotare prima possibile per assicurarsi gli alloggi più vicini.
Le stanze (con relative richieste di condivisione) verranno assegnate tenendo presente le date di prenotazione.
Il costo del soggiorno va saldato presso gli uffici di Narnia Arts Academy all'arrivo a Narni. Non si accettano carte di credito. Il prezzo delle strutture alberghiere include la tassa di soggiorno.
OSTELLO SANT'ANNA (not available in 2021)
Via Gattamelata 74 – Narni
Tel. e Fax (+39) 0744 715217 – Cell. (+39) 347 6565487 – (+39) 345 7572822
info@ostellocentrosperanza.it – www.ostellocentrosperanza.it
Spacious and comfortable rooms with six/eight beds with private bathroom, inside or outside the room: €28 per person
The price is per night and includes breakfast.
Also included, free of charge: use of the large common room, the library, a large garden, parking area, television, a large panoramic terrace, bed linens and daily cleaning service.
Towels are not included in the price and guests must bring their own.
Tourist tax to be paid directly at the lodging facility.
PALAZZO BARILATTI (sold out)
Piazza Galeotto Marzio – Narni
Cell. (+39) 347 6565487
Right in the medieval center of Narni (just steps away from the area where the courses will be held) is Palazzo Barilatti, a completely renovated period building. All the apartments have private bathrooms, kitchenette, LCD TV, air conditioning and free 24 hour Internet. The large, bright rooms are airy and comfortable, thanks to furnishings which are both functional and cozy. Cleaning service is twice weekly, with a change of bed linens. Breakfast not included.
room/apartment

price per apartment/per person

room with two twin beds 'basic', no kitchen

€70.00 per night (€35.00 per person)


double room 'deluxe', no kitchen

€78.00 per night (€39.00 per person)


Apartment 'deluxe' for four people (one double room and two twin beds in the loft), kitchen

€144 per night (€36.00 per person)


Apartment 'deluxe' for three people (one room with two twin beds or queen and a single room), kitchen

€138 a notte (€46.00 per person)

LE STANZE DEL GIGLIO – APPARTAMENTI***
Via del Campanile, 4 – Narni
Tel. (+39) 0744.717134 – Cell. (+39) 345 6488160
osteria@fondaconarni.it – www.fondaconarni.it
Located in the medieval center of Narni, "Le Stanze del Giglio" apartments are the result of an elegant renovation of a historic 16th century building. The entrance, off the characteristic via del Campanile, leads into the fascinating spaces which have been designed in the small, inner courtyards of this late medieval building.
The building is also disabled-accessible and is furnished with every means necessary to facilitate overcoming any architectural barriers. In addition, clients have access to all common areas of the hotel: terrace, reading room with a fireplace, large hall for dinners and evening events and for tasting typical Umbrian products, in the best tradition of Umbrian farm holidays.
The apartments (living room – kitchenette – bedroom – bathroom) are provided with heating, individual air conditioner, television, mini-fridge and free wifi. Breakfast included.
ROOM 1
equipped with: 1 double bed in loft + 1 double bed in living room, possibility of adding 1 single bed
single occupancy: €78
two occupants: €41 per person
three occupants: €38 per person
four occupants: €31 per person
ROOM 2
equipped with: 2 single beds, possibility of adding 1 single bed in living room
single occupancy: €60
two occupants: €41 per person
three occupants: €38 per person
ROOM 3
equipped with: 1 double bed, possibility of adding 1 single bed in living room
single occupancy: €60
two occupants: €41 per person
three occupants: €38 per person
ROOM 4
equipped with: 1 double bed in loft + 1 double bed in living room
single occupancy: €78
two occupants: €41 per person
three occupants: €38 per person
four occupants: €31 per person
ROOM 5
equipped with: 2 rooms and 2 bathrooms – 1 double bed + 1 single bed in the first room; 2 single beds in the second
single occupancy: €93
two occupants: €61 per person
three occupants: €43 per person
four occupants: €38 per person
five occupants: €32 per person
ROOM 7
equipped with: 2 single beds
single occupancy: €58
two occupants: €38 per person
ROOM 8
equipped with: 1 full size bed
single occupancy: €58
two occupants: €38 per person
ROOM 9
equipped with: 1 double bed in bedroom and 1 single bed in the living room, possibility of adding 1 single bed in the bedroom
single occupancy: €78
two occupants: €41 per person
three occupants: €38 per person
four occupants: €31 per person
ROOM 10
Equipped with: 1 double bed in bedroom + 1 double bed in living room; possibility of adding 1 single bed in living room.
single occupancy: €78
two occupants: €41 per person
three occupants: €38 per person
four occupants: €31 per person
HOTEL LA LOGGIA DEI PRIORI***
Vicolo del Comune, 4 – Narni
Tel. (+39) 0744.726843 – (+39) 0744 726844
info@loggiadeipriori.it – www.loggiadeipriori.it
3 Star Hotel, situated in the main square of Narni's old town centre, made out of a 15th century building renovated by means of an excellent blending of old and modern decoration. The Hotel has 17 rooms and 2 suites, all equipped with facilities such as color TV, FM radio, bar fridge and with every comfort offered by the 3 star category. Free Internet point. Buffet breakfast included.
room type

price per person

Single

€59

Double

€42

Triple

€36

Quadruple

€29
HOTEL TERRA UMBRA ****
S.P. Maratta Bassa, 61 – Narni
Tel. (+39) 0744 750304 – Fax (+39) 0744 751014
info@terraumbra.it – www.terraumbra.it
Situated on the outskirts of the mediaeval Umbrian town of Narni and set amongst 15 acres of parkland and surrounded by wooded hills, close to the imposing Rocca Albornoz Castle, this historical complex enjoys spectacular views over the surrounding countryside.
The entrance opens on a facade decorated with Moorish-style ornaments, where the lobby with the reception desk and the bar welcome the guests. A massive wooden staircase leads to the first floor housing the hotel rooms. Each one of the rooms differs from the others in its colors, antique furnishings and fine upholsteries. Air-conditioning, plasma screens TV, mini-bar and safe are available in all rooms. Breakfast is included and is served in the "Preziosa" room that opens to the enchanting Cloister with its ancient dwell and the flower-filled alley leading to the terraces and gardens. The garden with its alleys as well as the whole park are at the complete disposal of those who like walking in the nature in absolute peace and quiet.
room type

price per person

Single

€78

Single with full size bed

€84

Double

€48

Triple

€39

Triple Suite

€42

Quadruple

€32

Quadruple Suite

€36
Tourist Tax: €2.50 per person (starting at 14 years of age) for the first 4 nights
Distance from Narni main square: 9 km.
Fattoria La Collina Incantata
Strada dei Colli, 17 – 05035 Narni (TR)
Tel. 0744 750304
info@terraumbra.it – www.terraumbra.it
info@fattoriacollinaincantata.com – http://www.fattoriacollinaincantata.com
Fattoria La Collina Incantata is located in the municipality of Narni (TR) among the rolling hills of the Umbrian countryside, over a hill from which the view can wander endlessly between crops, vineyards, woods and a beautiful lake. Then again, going with the look, in high medieval cities and small villages.
They cultivate olives and cereals. A few years ago a vineyard was planted with grapes of chardonnay, merlot and ciliegiolo di Narni which produces an excellent white wine called San Faustino, named after the locality where the vineyard is located.
In 2013, with the aim of boosting agricultural activity and recover the buildings they were going down the drain, it was developed the project of the educational farm. The farm was renovated and dedicated to saving energy, and produces energy for more than 50 per cent of their needs via a PV fixed on the roof of the barn without any environmental impact.
It's accessible by people with disabilities. The farm has 4 multiple rooms for an overnight stay, of which 3 bedroom sleeps six people and one four people. Each room has its own bathroom. At the restaurant you can taste the farm products.
Camera

price per person

single

€64

double

€39

triple

€33

quadruple

€29

quintuple and sextuple

€25
Distance from the main square in Narni: 9 km
Convenzione Pasti
Students can take advantage of a special agreement on meal pricing arranged by Narnia Arts Academy with the restaurants
La Taverna dell'Aquila Nera
Ristorante La Loggia dei Priori
Ristorante Il Fondaco
Pub Arcomincio
Lunch/dinner coupons available at a special price of €9, €11 and €16 each can be purchased exclusively at the Narnia Arts Academy office (cash only).
Pre Fix Menu (€9 exclusively at La Taverna dell'Aquila Nera) includes:

First course
Second course with vegetable
Bread
Water

Pizza (€9 exclusively at Pub Arcomincio) includes:

Pizza
Water or soft drink

One Course Meal (€11 exclusively at La Loggia, Fondaco) includes:

Choice of first course or second course with vegetables
Coffee
Water

Two Course Meal (€16 exclusively at La Loggia, Fondaco) includes:

Choice of two first courses
Choice of two second courses with vegetables
Choice of fruit, dessert or coffee
Water
Chi non volesse usufruire della convenzione pasti offerta da Narnia Arts Academy potrà gestire il vitto in maniera autonoma.
Prenotazione alloggi
Per ulteriori informazioni inviare una mail a narniaartsacademy@gmail.com
Raggiungere Narni
Come raggiungere Narni in aereo
L'aeroporto più vicino e' Roma.
Come raggiungere Narni in treno
La stazione più vicina è Narni – Amelia ed è comodamente raggiungibile da Roma o da Perugia con treni che partono circa ogni ora.
Per gli orari dei treni si prega di consultare il sito www.trenitalia.com.
C'è servizio di bus dalla stazione di Narni – Amelia alla piazza principale, vicinissima agli Hotel.
Come raggiungere Narni in auto
Per chi arriva da Nord
Autostrada del Sole (A1) direzione Roma;
Uscire a Orte verso Via Terni/E45/SS204:
Mantenere la destra al bivio e seguire le indicazioni per Perugia/Terni/Narni/Flaminia/Fano/E45/Cesena/Amelia
Entrare in Via Terni/E45/SS204
Prendere lo svincolo per la SS675
Prendere l'uscita Narni per entrare in SS204
Continuare su Via Tiberina/SS3ter
Svoltare leggermente a destra in Strada dei Tre Ponti/SP1
Svoltare a destra in Via Flaminia Ternana/SS3
Svoltare a destra per rimanere su Via Flaminia Ternana/SS3
Svoltare tutto a sinistra in Strada Narni-Sant'Urbano/SP20
Svoltare a destra in Strada Narni-Sant'Urbano.
Per chi arriva da Sud
Entrare in A1
Prendere l'uscita Magliano Sabina verso SS3
Mantenere la sinistra al bivio, segui le indicazioni per Otricoli/Calvi dell' Umbria/Terni
Svoltare a sinistra in SS3
Svoltare a destra in Via Flaminia Romana/SS3
Continuare a seguire la SS3
Svoltare a destra in Strada Narni-Sant'Urbano/SP20
Svoltare a destra in Strada Narni-Sant'Urbano.
Temperature medie di Luglio
22C – 25C (72F – 78F)
Sulla città di Narni
Narni, Provincia di Terni, altezza m. 240 s.l.m., abitanti 20.570, centro geografico d'Italia.
Caratteristica città umbra con forti connotazioni medievali, in bella posizione sopra un colle con ulivi, a controllo della gola del Nera e della Conca Ternana. Itinerari artistico-monumentali, archeologici, religiosi, naturalistici. Teatro ottocentesco.
È circondata da gemme culturali quali le città di Perugia, Assisi, Todi, Spoleto.
Narni si trova a 100Km da Roma e 75Km da Perugia.
Popolazioni antichissime abitarono la zona fin dal neolitico. Plinio il Vecchio, nella sua Naturalis Historia, ritiene che la popolazione umbra sia la più antica d'Italia e tra le città di questo popolo annovera anche l'antica Nequinum (Narni).
Nel 299 a.C. fu colonia romana con il nome di Narnia, dal fiume Nahar, l'attuale Nera.
Nel 223 a.C. Narni divenne importante con la costruzione della grande via militare Flaminia per opera del censore Caio Flaminio.
Nel 90 a.C. divenne municipio.
Nel 369 d.C. ne fu primo vescovo cristiano Giovenale, proveniente da Cartagine, poi consacrato Santo Patrono defensor civitatis. La sua posizione strategica e dominante la espose alle invasioni barbariche. Nel sec. XII affermò la sua potenza di libero Comune. Tra il XII e il XIV secolo ebbe il suo massimo splendore.
Nel 1371 il Pontefice riformò gli statuti cittadini. Fiorirono una serie di botteghe di pittura e oreficeria. Molti artisti del Rinascimento produssero opere per la committenza narnese: il Rossellino, il Ghirlandaio, il Gozzoli, il Vecchietta, Antoniazzo Romano e lo Spagna.
Il 17 luglio 1527 i Lanzichenecchi, ostacolati nel ritorno dopo il Sacco di Roma, presero Narni con il tradimento, la incendiarono e la distrussero parzialmente. La ripresa fu lenta, ma si ricostruirono le mura, i palazzi, le chiese e già sul finire del 1500 la vita tornò a scorrere appieno. Tornarono gli artisti illustri, lo Zuccari, il Vignola, il Sangallo e lo Scalza, che parteciparono alla ricostruzione.
Nel 1664 fu fondata la biblioteca comunale.
Narni ha dato i natali a numerosi illustri personaggi, tra cui l'imperatore romano Cocceio Nerva, Erasmo da Narni detto il Gattamelata, la Beata Lucia Broccadelli, il cardinale Berardo Eroli, l'umanista Galeotto Marzio, il vescovo Cassio da Narni, la letterata Caterina Franceschi Ferrucci.
Regolamento
Il Workshop di Recitazione è aperto a tutti gli attori, aspiranti attori e studenti dai 15 ai 30 anni. Per gli studenti minorenni sarà necessaria un'attestazione dei genitori che esonera l'organizzazione da ogni responsabilità nei riguardi del figlio.
La direzione si riserva di decidere l'annullamento del programma. In tal caso i partecipanti ne saranno tempestivamente avvertiti e riceveranno il rimborso della quota associativa.
La quota associativa non e' rimborsabile. Coloro che essendosi iscritti si trovassero nella impossibilità di frequentare iI corso non avranno diritto al rimborso.
La Direzione non assume rischi o danni di qualsiasi natura che dovessero derivare ai partecipanti dalle attività del corso.
La Direzione non è responsabile di eventuali danni a persone e cose che si dovessero verificare durante il periodo di svolgimento del workshop.
L'iscrizione al workshop comporta l'accettazione incondizionata del presente regolamento e liberatoria in favore di Narnia Arts Academy/Narnia Festival/Imprenditori di Sogni per l'utilizzo delle foto e delle riprese delle lezioni e di ogni altra manifestazione connessa all'attività del workshop, senza che da questo utilizzo derivi alcun diritto ai partecipanti.
Per ulteriori informazioni, contattare Cristiana Pegoraro, Direttore Artistico Narnia Festival
alla mail: narniaartsacademy@gmail.com.