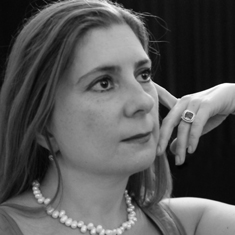 Educational and Artistic Administrator for the United States
Lana Ivanov has distinguished herself as a performer, and a remarkably insightful, technical and artistic pedagogue. The inaugural first prize winner of the Summit Symphony Orchestra Concerto Competition and numerous other awards, Ms. Ivanov received her Bachelor of Music from the prestigious Manhattan School of Music under the tutelage of Piano Professor, Zenon Fishbein in 1988. Maintaining her philosophy to learn without limitation, in 1991 and 1992 Ms. Ivanov has attended the International Bartók Festival in Hungary studying under the renowned pianist Zoltán Kocsis.
In 1994, Ms. Ivanov became the Artistic Director and a faculty member of the Shandelee Music Festival (www.shandelee.org), and since 1996, she has been the Executive Director of the Young Pianist Competition for New Jersey (www.youngpianist.org) In the summer of 2000, Ms. Ivanov was invited to join the piano faculty of Festival "Musica in Laguna" (www.almc.it) Chioggia (Italy) and in 2012, she joined Narnia Arts Academy (www.narniaartsacademy.com) Narni (Italy) as the Educational and Artistic Administrator. In 2016 Ms. Ivanov became the Artistic Director of the PLAY the Classics Series held at the prestigious Bethel Woods Center for the Performing Arts (www.bethelwoodscenter.org).
Ms. Ivanov frequently gives master classes for the Young Pianist Competition of New Jersey and at the Shimon and Sara Birnbaum Jewish Community Center (New Jersey). She was invited by the Kazakh National Academy (Astana, Kazakhstan) to give a series of lectures and master classes in December of 2004, April/May 2005 and again in February 2006.
Ms. Ivanov also adjudicated International Competitions in Italy, such as the Festival "Musica in Laguna" International Concerto & Solo Competitions – Junior & Senior Divisions (2003 – 2013 Chioggia, VE), the Lorenzo Perosi International Competition (2007 Tortona), and the Saint Giorgio Music Association's Cervo Younger Musicians Festival (2009 Cervo). Ms. Ivanov was invited by the Kazakh National Academy to adjudicate the 2006 & 2008 Astana-Merey International Piano Competition (Astana) and by the Kazakh National University of Arts to adjudicate the 20th International Competition for the Youth "Shabyt" (Astana).
www.LanaIvanovPianoStudio.com
More information on lanaivanovpianostudio.com